Impero Life Update: BETT Show 2014 Edition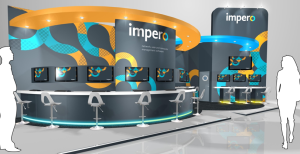 A new year means one thing in the education world it means the BETT show. As in previous years here is my Impero Life Update edition for BETT 2014. Impero is on the stand D286 and I am down from Wednesday to Friday. This year Impero comes to BETT 2014 with new products, updated existing products and a brand new look.
Impero Education Pro
Impero Education Pro has once again improved with lots of new updates. We have now added a OS X console which has the classroom management elements which includes features such as computer lab management to remote control and support.
We have been working on  additional extra e-safety features. We now have updated the keyword lists which includes lists for anti-bullying, eating disorders, Internet Watch foundation keyword lists, adult content plus a number of others.
Confide is a brand new feature that allows students to report concerns such as bullying either about themselves or another pupil. The reports can be sent to one or a number of staff members. In fact students can even choose to report their concern anonymously or to a certain staff member such as a teacher that they trust.
Log Viewer has had a number of improvements and features including a number to help customers manage the violations. We have added a number of advancements to the power management including extra reporting.
We have added pc booking which allows you to book computers from a single PC to a whole room and includes extra features such as the ability to make sure that the PC is 'locked' only allowing the person who booked it to unblock it (or it can be overridden by member of staff).
The USB tracking we introduced at last years BETT has had a major overhaul including the ability to add USB sticks to an allow list. Any USB not included in the list, or any unencrypted USB sticks, will be blocked from the network.
Impero Remote Manager
We released Impero Remote Manager a few months back and we are bringing it to BETT 2014 and this is your chance to use it hands on.
It supports multiple servers it can have up to 254 servers placed across the world in fact internally we host several servers on Microsoft Azzure servers.
It supports out-of-bounds remote control this allows you to install the client on the PC and you can remote control clients not on your network.
Impero Remote Manager allows you to remote support a machine without having to install the full client.  Great for supporting sites where you don't need a full client connection to a machine but you do need to do ad-hoc support.  A customer downloads the ad-hoc client and enters a code provided by yourself and then you can remote support that customer.
YouID
We announced publicly our work with YouID a few months back and it has gone well with a number of updates being shown at BETT.
However YouID suffers same the problem that all similar products do. What happens when you want to integrate a product into the single sign and they do not support open standards or worst they offer some hybrid on the standards.  We can work with that company and their developers to integrate but this takes time and in the short-term you the customer is left waiting.  We took a step back and that is when we came up with the idea of the Personal Apps feature.
If a site uses form based logins we can integrate.  It requires that you add our browser extension (available for Internet Explorer, Chrome, Firefox, Opera and Safari ) it does than mean you can add just about any website you wish.  Like a fully integrated app they appear on the YouID webtop and you are able managed like any other app.
Stand Events & Give Aways
We have  a number of events across the stand at BETT 2014 as well as the usual Live Demos on all our products we have a free  e-safety clinc on Thursday & Friday with Alan Mackenzie. Alan will be giving advice on how to maximise e-safety in your school and you can get a free e-safety white paper produced by Alan. This paper looks at the relevance of Becta's PIES model, why a managed approach to e-safety is better and how schools can empower young people to make responsible choices online.
Now the important part freebies like always we have some SWAG which will be held  in a handy Impero Bag infact we are running a competition using the bag the after the BETT show. So do make sure you come and visit the stand D286 . If you want to say hello I am down from Wednesday to Friday.