Top 4 Lessons That Caffé Nero Teaches Us About Customer Experience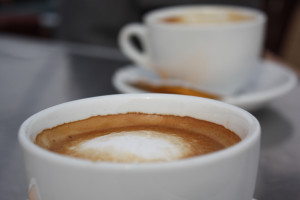 As I work for a software company I am automatically a coffee expert. I have often thought that the Impero Software unofficial tag line should be "keeping coffee industry alive one cup at a time". It does mean I have visited a number of coffee shops from the local independent café to the major chains such as Caffé Nero, Costa Coffee and Starbucks.
However my favorite Is Caffé Nero because off the experience I get. They sum it up themselves with this  philosophy:
The Caffé Nero philosophy is really very simple: Premium Italian coffee. A warm and welcoming atmosphere. Good food and great personal service.
There are a number of lessons we can learn from Caffé Nero.
It is about the experience.
When I go to Starbucks and Costa I often feel like I get a fast food experience. I stand in line order my coffee and then move along with the conveyor belt to the next person who prepares my coffee often not saying anything till they hand me my drink. Now compare that with the Caffé Nero experience. A person asks what drink I want and makes it themselves. While doing it ask what I have planned for the day and how was my weekend etc. One person interacting with me all the way and taking interest in me and my experience. I feel more comfortable in Caffé Nero than any other coffee shop.Starbucks is famously described by Howard Schultz, company President and CEO,
"We're in the business of human connection and humanity, creating communities in a third place between home and work."
The problem is these days there is a rushed nature to Starbucks. It means I feel I can't sit there and enjoy my drink as I have to get up and leave quickly as I am taking valuable seating space.
2. ## You are as week as your weakest employee.
Caffé Nero like most brands teaches another Important lesson that you are as week as your weakest employee. While my experience has always been good if someone has a negative experience it can harm the brand twice as much. Alex one of the Impero Software directors will often will remind people:
That if we do something bad then that person will tell 10 people about it. If we do something good they will tell 5 people.
It means we have to work twice as hard at making sure people know how great we are but equally we have to work hard at bringing everyone up a level so customers have a great experience.
3. ## The best training is on the job training.
Caffé Nero employees go through some basic training but then start working in the shop under guidance of the senior staff. Here at Impero every department trains in a very similar way while the content is different for a new sales person vs a new developer.  The training process is summed-up in the follow statement:
You can't learn any of it from a text-book or classroom
New staff at Impero learn by doing the job while working with more experienced staff within their department. Now please don't get me wrong there is more to training at Impero but in terms of philosophy that is what we base the training on.
4. ## The aim is to make you want to return.
Businesses like Caffé Nero have one aim when you go to leave that you return again tomorrow or next week. They have an up hill challenge with the number of coffee shops in the market along with people cutting down on spending on luxury items.  That means you need that extra push to choose Caffé Nero over Starbucks.
The experience I get at Caffé Nero is the same experience we try to give you at Impero. It is like visiting your favorite coffee shop. We have all phoned a technical support line that you feel they are rushing to get you off the phone. However if like the Caffé Nero staff you feel we are friendly, you don't feel rushed and you feel that we are taking an interest in your experience. Hopefully you will stay around.
Let me know what makes your return again to your favorite coffee shop…