Impero Software Life: Foosball, Hacking Impero & The 6 Things About Impero Edition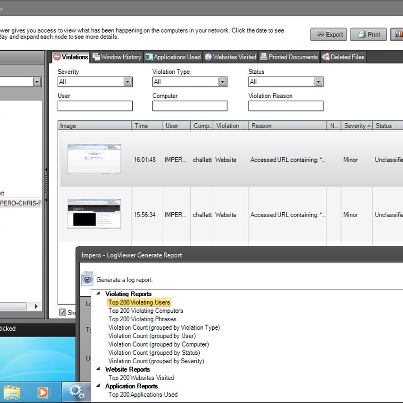 After a some positive comments over the Impero Software update post I thought I would try to make it a regular occurrence with that all said welcome to the second installment of Impero Life.
V3 Latest –
If you are a fan on the Impero Software Facebook page you will have seen a screenshot of our new log viewer. The Impero Software code monkeys have worked away and that is one of many changes making its way to the software for BETT show.
The next stable release will be 3506 which recently has gone into beta testing. As well as a some bug fixes this includes a number of new features. As I mentioned before the log viewer changes will be part of the BETT build which is due out in January.
New Additions to Impero Office…
As reported last time the gym is still being created however we have added a very important addition to the Impero office. We now have the foosball table which now takes centre stage in the lunch area..
[
](http://www.russelldyas.com/wp-content/uploads/2012/10/world_map_3d.jpg)Did You Know
Impero is not just installed in UK we have installations worldwide some of those countries include Australia, Bermuda, Canada, Croatia, France, Germany, Guatemala, Ireland, Italy, Latvia, Lebanon, Netherlands, Nigeria, Norway, Portugal, Romania, South Africa, Spain, Switzerland, Trinidad and Tobago, Turkey,UAE, and the USA.
While we started in education however we now have installations in sectors such as NHS, prisons, police forces and corporate establishments to name a few..
Impero can run in multiple languages and we are always adding more.
We support systems such as Terminal Server, Citrix, VMWare, NComputing and Hyper-V to name just a few.
We are developing a patch management solution.
Our software has had penetration testing conducted against it and passed with flying colours..
Security testing
As I just mentioned above the other week our software was penetration tested. A tester from an independent security company spent two days in the Impero test chamber trying to hack us. The network was setup to mimic a typical school environment.
The software passed as they were unable to hack it. In fact it got glowing praise from the person conducting the test.
and finally…
I thought I would share a kind comment that came via a Facebook message from the great John Smith from Settle College when I told him what was coming up in 3506: –
"Sounds great 
you guys are brilliant at listening to customers"
I think this sums up Impero very well…